Small Business Saturday 2018
Please join us in supporting Small Business Saturday this weekend (and throughout the year).  Independent retailers are vital to the fabric of communities and provide curated creative merchandise.  For all of us who enjoy strolling through a town center near home or on vacation, let's do more than browse at our favorite shops. Who doesn't appreciate having justification to buy that special item you discover! 
Here is our second annual list of favorite small businesses that we not only love to visit, but we admire each founder's talent and story: 
Bespoke Abode in Vineyard Haven on Martha's Vineyard: a treasure near the ferry that offers a great selection of furniture, floor coverings, window treatments, lighting, home accessories, gifts & more!
For Now, a retail incubator in Boston's new Seaport neighborhood, a pop-up collective store where consumers and digital brands can discover one another.  As a digital brand ourselves, we are very intrigued by the potential to display Divadend Footwear in this type of setting.  Thanks to Kaity and Katharine for bringing this concept to fruition!
Wasik's Cheese Shop in Wellesley, MA

A true family business with multiple generations welcoming visitors with delicious samples and friendly guidance selecting cheese, wine and gourmet items for your next gathering.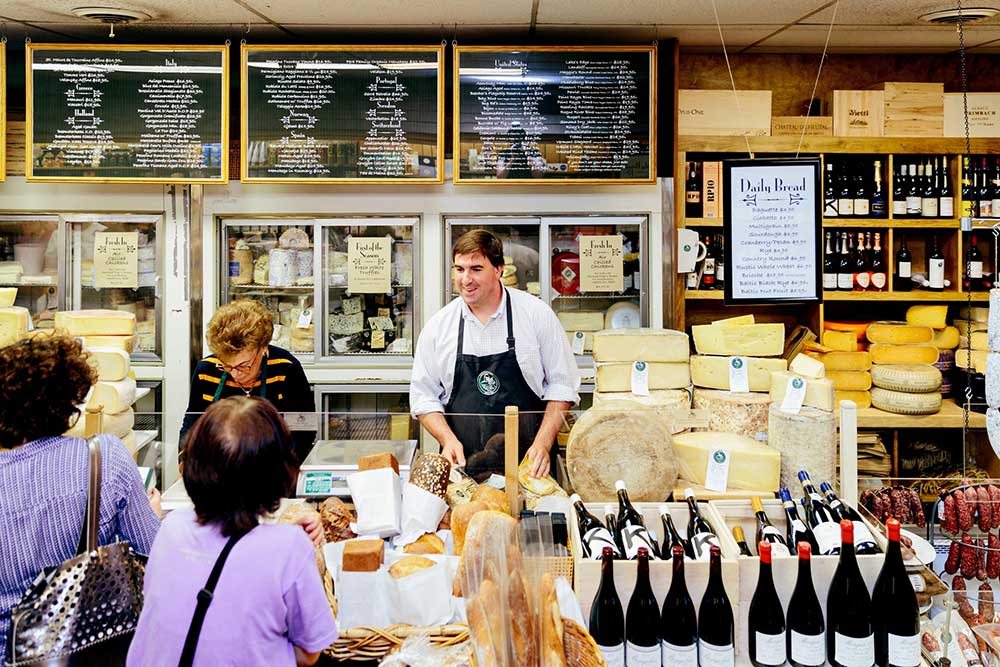 KIVA - Tea Café, Spa on NW 24thin Portland, Oregon because it is just cool. It is a great gathering place with extraordinary menu options that range from gluten-free, vegan, and paleo friendly food, tea, espresso, juices, smoothies, massage, facials, and a foot sanctuary!
Margaret O'Leary San Francisco in Boston's Beacon Hill (and elsewhere) 
We are inspired by Margaret's story and have always loved visiting her boutiques when on the west coast, searching for a unique cashmere sweater. She now has 15 boutiques across the country and we are thrilled to have one in Boston.
An Unlikely Story Bookstore & Cafe in Plainville, MA
Created and founded by author Jeff Kinney whose Diary of a Wimpy Kid series has captured kid and adult readers and movie goers.  This bookstore offers a great children's selection and unique items to browse with a cafe and author appearances. 
Walking through Fabric Planet is so much fun! The selection of beautiful fabrics and trim is endless and makes one want to redecorate. They offer a sewing club with a unique project each week too.
Urban Stems in Washington DC and NYC with nationwide delivery too
Who doesn't love the experience of receiving flowers? Original designs, beautifully packaged and sustainably sourced bouquets and arrangements from Rainforest Alliance Certified™ farms is a go-to choice for ordering flowers!
If you're looking for more favorite small businesses, check out our 2017 favorites.   
Wishing you and yours a wonderful holiday season,
Divadend Footwear